Andorra: the world capital of high-mountain cuisine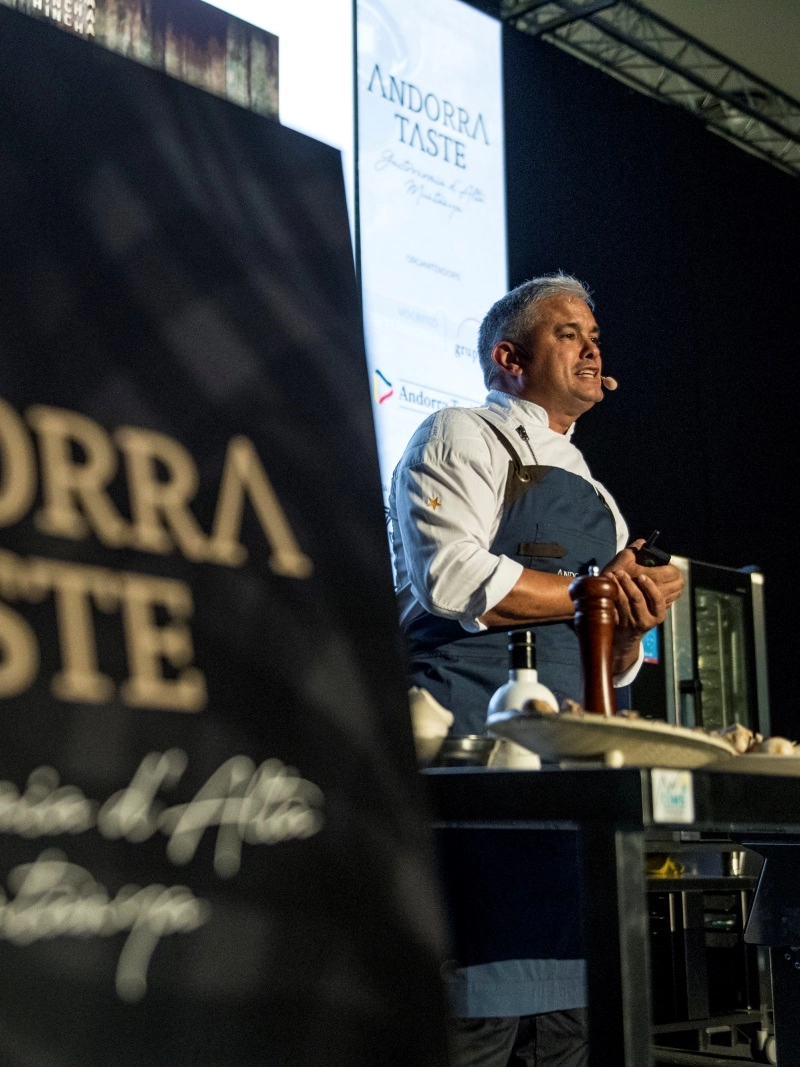 From 13 to 17 September you have a new date with Andorra Taste: the second edition of this international event focusing on high-mountain cuisine that brings together chefs from Andorra and beyond, as well as producers and tourist-industry professionals, in order to explore the unique qualities of high-mountain cuisine.
The event is organised by Andorra Turisme and Vocento Gastronomía (GSR Group) and aims to showcase Andorra's cuisine, native products, gastronomic influence and culinary relationship with France and Spain.
The Principality is hosting a gathering of the finest Andorran and international chefs
Once again, Andorra is bringing together the leading chefs in the field of high-mountain cuisine. More than one hundred professionals from around the world are gathering in Andorra, where they will discuss – through the medium of gastronomy – concepts such as identity, sustainability, and the promotion of high-mountain regions. You will have a unique opportunity to learn new culinary techniques and discover some of the star dishes of Andorran cuisine.
El Prat del Roure in Escaldes-Engordany will once again host the congress. This year the invited territory is the alpine region of the Alps. The professional days will be attended by guest chefs from France, Switzerland and Italy who will showcase their talent, know-how and creativity. Among the chefs who will demonstrate how they are able to prepare traditional recipes using local products grown in extreme locations and under extreme climatic conditions there will be: Josetxo Souto and Ramón Aso, from Calliso in Aínsa (Husca) Michele Lazzarini, from Contrada Bricconi in Oltressenda Alta (Brescia), Edorta Lamo, from Arrea d'Álaba; Rebecca Clopath of the Biohof Taratsch in Lohon (Switzerland); Benito Gomés del Bardal, in Ronda (Spain) and Sven & Amanda Wassmer, from Memories, in Bad Ragaz (Switzerland).
As well as Joan Roca from the Celler de Can Roca (Girona); sommelier Ferran Centelles, from the Bulli Foundation (Spain) and Paolo Casagrande from Lasarte in Barcelona.
The presence of the cook and Sherpa Ngatemba (Nepal) should also be highlighted, who prepares his succulent dishes up to 6,000 meters high.
As for the native representation, Andorra Taste will have Antoni Muñoz & José Antonio Guillermo, from Odetti Bistro (Escaldes-Engordany); Paco Méndez del Toc (La Massana); Marc Gascons & Juan Jiménez del Bruna (Soldeu); Marc Mora & Roger Biosca from the Andorra Park Hotel and the Hotel de l'Isard (Andorra la Vella)
And as in the previous edition, Andorra Taste Awards will give an award to recognize the achievements of an international chef who has made a significant contribution to culinary development in recent years. This year will be for the Peruvian chef Gastón Acurio, of the restaurant Astrid&Gastón, in Lima
The best gourmet tastings at Andorra Taste Popular
From 15 to 17 September, Andorra Taste will also offer an extensive programme of activities for all comers. Calle Veedors in Escaldes-Engordany will be dressed up in its finery, ready to welcome everyone who wants to discover our cuisine: all along the street you will find a variety of gourmet spaces where you can enjoy our chefs' most sophisticated creations. And don't miss the designer tapas, made from quintessentially local products and boasting all the flavour of the high mountains.
Local producers will also be given a special space where they can showcase their wide range of products, including jam, honey, spirits, wine, beer, cheese and cured meats, all made using entirely artisanal techniques.
Show cooking and live music
Live cooking workshops will also take place during the weekend. Mark the date and make sure you don't miss the culinary demonstrations given by the chefs taking part in these popular get-togethers! The guest chefs, along with other professionals from Andorra, will reveal the best-kept secrets of their culinary trade. A variety of tastings will also be available, so that you can discover our finest native products. Make sure you reserve your place!
To accompany these two days of gastronomic exploration and complete the culinary experience, a number of Andorran groups – offering a variety of musical styles – will perform a series of live concerts.
Although the event will physically take place in Andorra, in the parish of Escaldes-Engordany, you can also follow it online via the dedicated digital platform. You'll be able to sign up soon and make sure you don't miss the talks!
Indulge your palate at the 2023 edition of Andorra Taste!